Happy Dragon Boat Festival 2021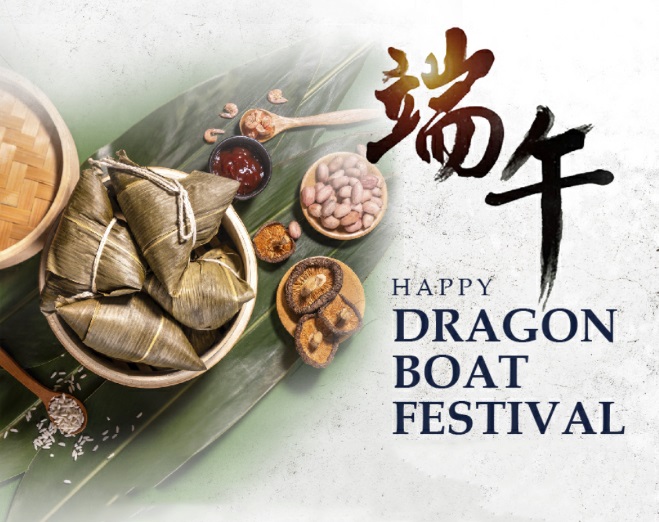 Wishing everyone a Happy Dragon Boat Festival and good fortune. Enjoy dumplings and stay safe!
The renowned Dragon Boat Festival, also known as Tuen Ng, falls on the fifth day of the fifth lunar month. It commemorates the death of Qu Yuan, a Chinese poet and minister known for his patriotism and contributions to classical poetry and who eventually became a national hero.
Qu Yuan lived during the time of China's first feudal dynasties and supported the decision to fight against the powerful state. Though his actions led to his exile, he wrote in order to show his love for the country. Legend has it that Qu Yuan felt such remorse after the capture of his country's capital that, after finishing his final poem, he waded into the Mi Lo River in today's Hunan province as a form of protest and despair to the corruption surrounding him.
Upon hearing news of this tragic attempt, villagers took boats and carried dumplings to the middle of the river to try and save Qu Yuan, but their efforts were in vain. They turned to beating drums, splashing water with their paddles and throwing the rice dumplings into the water – serving as both an offering to Qu Yuan's spirit, as well as a means to keep the fish and evil spirits away from his body. These rice dumplings became the zongzi we know today, while the search for Qu Yuan's body became the intense dragon boat races.
Now, dragon boat races and other activities are held annually during this festive time. Thousands of competitors and supporters attend the various race days to take part in the festivities, parades and entertainment events.
The canoes take the form of a traditional Chinese dragon, often painted in fierce vibrant colors that are reminiscent of the old war canoes. The team on board will work together to steer the boat to the finish line as fast as possible, while a member sits at the front and beats a drum to maintain morale and ensure the rowers keep pace and time.