Overview
Updated On:
June 22, 2021
IMPORTANT: SHOWFLAT VIEWING
In line with Government guidance, Sales Gallery/ Showflat are open for appointments only, with maximum number of visitor per time slot!
Enjoyed Special Promo Now ! Talk to Us!
#SGunited #StayHomeforSG
Together We Can Overcome. Cheers!
Official Treasure at Tampines Condo Latest Updates:
2 Bedroom 581sf from $966,000 – last 1
2 Bedroom + Study 678sf from $1,022,000 – last 5
2 Bedroom Premium 657-678sf from $979,000 – last 10
3 Bedroom 915-947sf from $1,235,000
3 Bedroom Premium 1012-1033sf from $1,463,000 – last 11
4 Bedroom 1238-1270sf from $1,631,000
4 Bedroom Premium 1270-1367sf from $1,776,000
5 Bedroom 1690-1722sf from $2,152,000 – last 10
It is important to only engage the Official Direct Developer Sales Team to assist you. There are several complex procedures and key factors to consider before committing to purchase a unit.
Rest assured that all our representatives are certified, well-trained and committed to deliver. By engaging the Official Direct Developer Sales Team, you will also enjoy the best possible direct developer price. There is no commission required to be paid.
About Treasure at Tampines Condo
Treasure at Tampines 聚宝园 is a 99 Years development located at 1-57 Tampines Lane in D18 – Pasir Ris / Tampines of Singapore. The development is brought to you by Sim Lian (Treasure) Pte. Ltd.. Treasure at Tampines 聚宝园 comprises a total of 2203 units and is targeted to be completed in 31-Dec-2023.
The development is located within the regional hub, Tampines Regional Centre, with a variety of amenities at your doorstep. Right next to the development is the Tampines Round Market and Food Centre, where you could fulfill your daily food cravings. SAFRA Clubhouse which provides a range of entertainment facilities is also located in the neighbourhood. For a wider variety of choices, you could visit nearby Eastpoint Mall, Tampines One, Tampines Mall, and Century Square, which have a range of coffee shops and supermarkets.
Why is Treasure at Tampines Condo the perfect place for you?
✅ By reputable developer – Sim Lian
✅ 6-8 Minutes walk to Simei MRT
✅ Nearby amenities and heartland malls
✅ Within 1KM to numerous primary schools
✅ Rare mega development spanning over 648,889 Site Area (11x football fields)
✅ Stunning 128 Condo Facilities with 11 Swimming Pools.
✅ Growth potential & excellent investment near Tampines Regional Center
✅ Less Competition and Attractive Rental Pool
✅ Super low maintenance fee from $150 per month only
✅ Super low entry price for large scale developments with full condo facilities.
Treasure at Tampines Condo Location
Treasure at Tampines is close to a number of MRT stations such as Simei MRT station and Tampines MRT station. Transportation is expected to grow exponentially in the near future upon the completion of upcoming Tampines East and Tampines West MRT stations along with three new MRT lines and new integrated transport hub. The Tampines Bus Interchange is situated near to the Tampines MRT station. Nevertheless, getting to Treasure at Tampines is effortless with Pan Island Expressway (PIE) Exit 4 and Tampines Expressway (TPE) at doorstep which further link to the new towns of Pasir Ris, Tampines, Punggol and Seletar.
Treasure at Tampines Condo Amenities
Treasure at Tampines location offers a reliable connection to all parts of Singapore as it is well connected to major roads and highways whole while also being located close to a number of MRT stations. The residence is surrounded by an abundance of amenities with three big shopping malls, Tampines Retail Park, coffee shops, supermarkets, grocery stores, F&B Outlets, childcare center and sundry shops located within close proximity.
On top of that, Treasure at Tampines is just next to commercial and industrial hub of Singapore, with big companies such as Seletar, Standard Chartered, IBM and Changi Business Park providing an advantage for residents working in the area. The key highlight within Treasure at Tampines is the contemporary clubhouse, with state-of-the-art gymnasium and a lavish function room. There are also dining pavilions, relaxation corners, swimming pools, outdoor jacuzzis, spa pool, tennis court and a garden for residents to relax and indulge in after a long day at work.
Check Out More Amenities Near Treasure at Tampinese Condo:
Trains (MRT & LRT)
• EW3 Simei (0.65km)
• DT31 Tampines West (0.99km)
Groceries/ Shopping
• Eastpoint Mall 470m
• Tampines Mall 1.05 km
• Century Square 1.08 km
• NTUC Fairprice (Tampines Blk 138) 430m
Schools
• Angsana Primary School (0.65km)
• Changkat Primary School (0.67km)
• Tampines Primary School (0.73km)
• Chongzheng Primary School (0.81km)
• Yumin Primary School (0.87km)
• East View Primary School (0.93km)
• Junyuan Primary School (0.97km)
Treasure at Tampines Condo Siteplan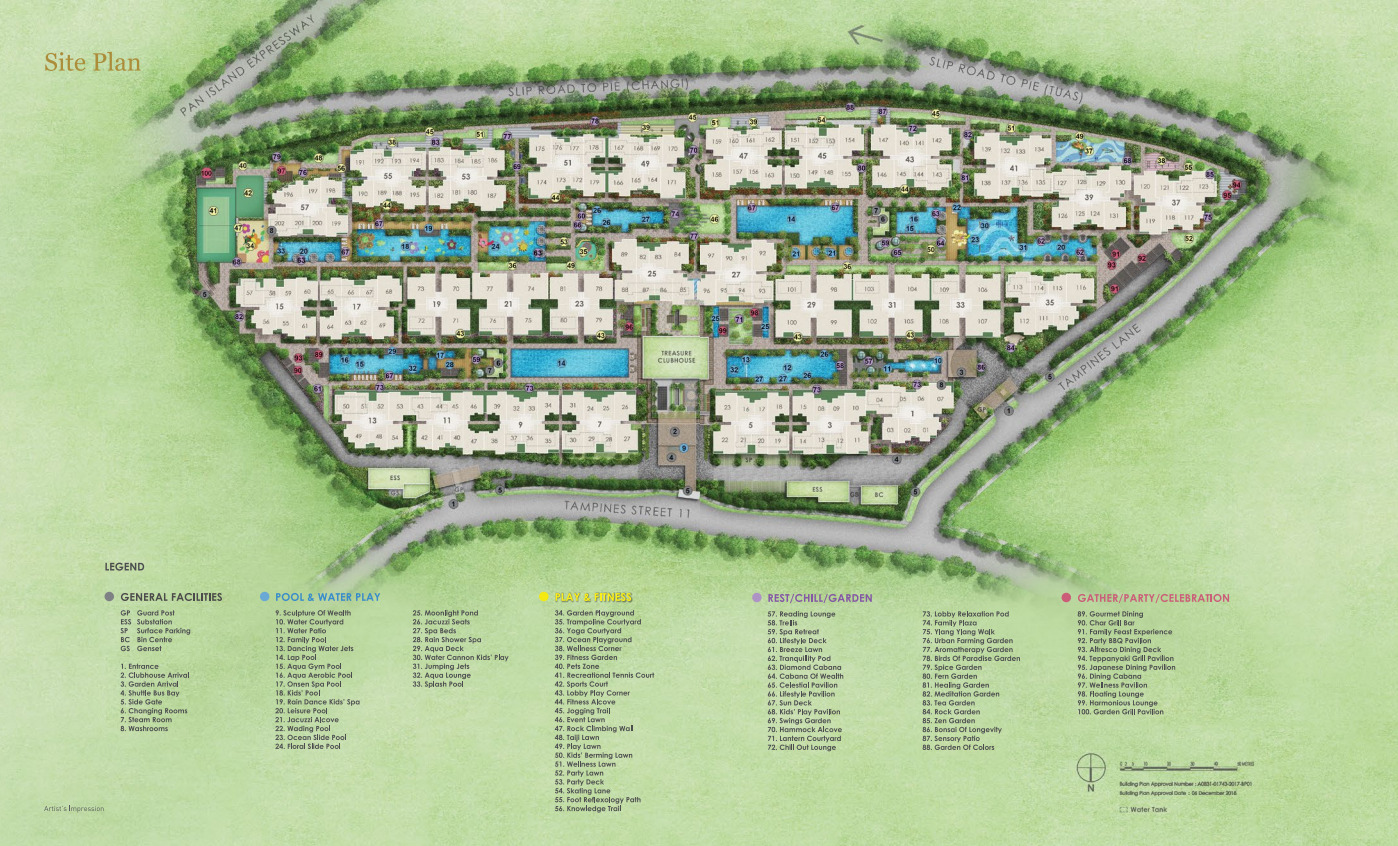 Treasure at Tampines Condo Facilities

Equipped with a collection of extravagant facilities, this development is the ultimate choice for your dream home in the metropolis. Some of this exciting areas include recreational facilities like the BBQ area, Gym and lap pool.
The beautiful landscape of this development welcomes its future residents with an abundant greenery. With its area surrounded with towering buildings, it helps to give the residents a break from the busy ambiance. Calmness and serenity within its premises.
Live with top quality finishes of chic and sleek and spacious layout that is meticulously designed with luxury and elegance in mind. Each individual space is fitted with best of fittings and finishes with you in mind.
Treasure at Tampines Condo Specification
Treasure at Tampines Condo Smart Home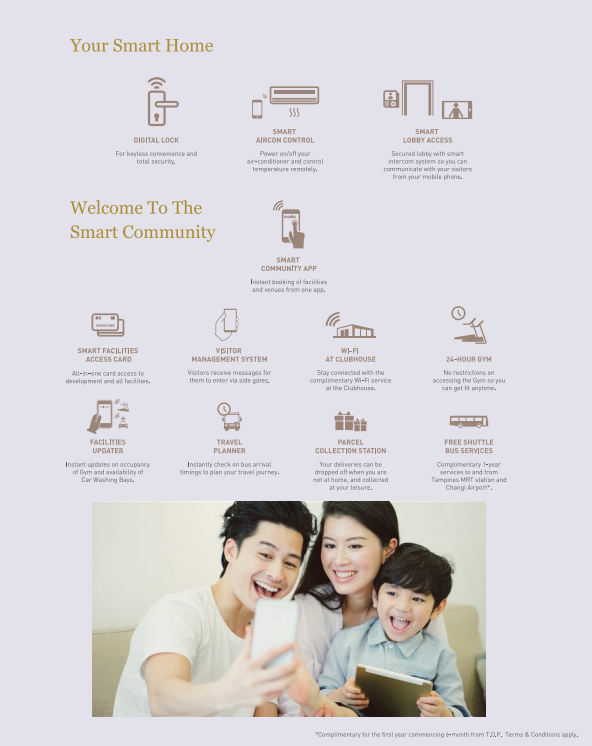 Treasure at Tampines Condo Distribution Chart
Treasure at Tampines Condo Unit Mixed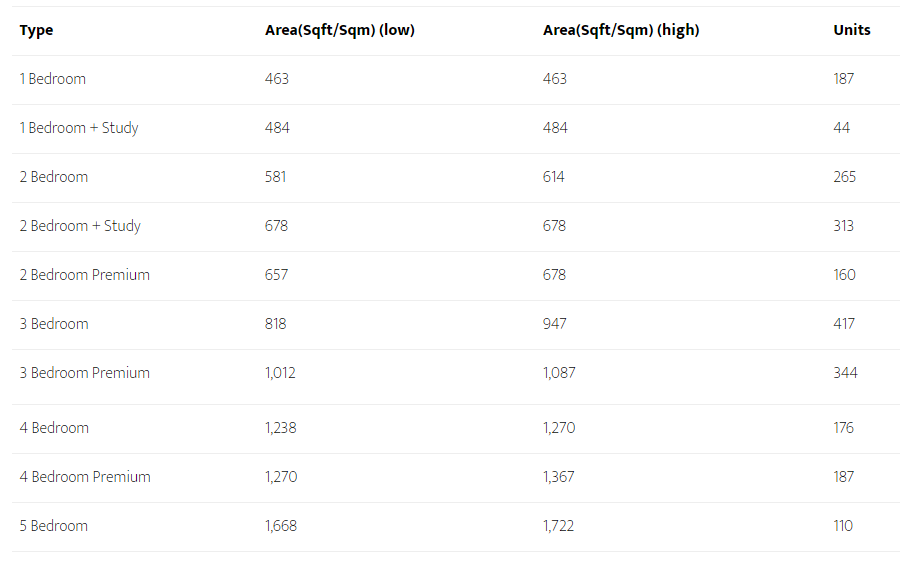 Treasure at Tampines Condo Developer
Sim Lian Group began in 1976 as Sim Lian Construction, a building and construction firm with extensive capabilities and expertise in construction.
In 2001, in response to changing market conditions in Singapore, the Group embarked on property development with the formation of Sim Lian Land. Sim Lian Group has since added property investment and other supporting divisions to its business. It is now recognised as a comprehensive property player with an extensive portfolio of residential, commercial, industrial, retail and mixed-use projects in the region.
In what could be the biggest collective sale of a former Housing and Urban Development Company (HUDC) estate since 2007, Sim Lian's bid for Tampines Court came in for S$970 million. Located at Tampines Street 11, the plot of land, at 702,164 square feet, is said to be able to yield 2,500 units with each unit an average 900 sqf, according to real estate company Huttons Asia, the appointed marketing consultant for the collective sale.
The group is making the acquisition through Sim Lian (Treasure), a joint venture between Sim Lian Development and Sim Lian Land. The group will also handle the project's construction.
Property Id : 14125
Price:
From
$ 966,000
SGD
Property Size: 581.00 ft2
Rooms: 2
Bedrooms: 2
Bathrooms: 1
Property Type: Condominium
Developer: Sim Lian (Treasure) Pte. Ltd.
Tenure: 99 years
Site area: approx 60,283.84sqm / 648,889 sqft
Completion: Est. 2023
Number of floors: 29 blocks of 12 storeys
Number of units: 2203 units
Unix Mixed: 1BR, 2BR, 3BR, 4BR, 5BR
Parking Lots: 1,754 basement car park lots with 24 surface lots and 11 handicap lots
Buyer's eligibility: Singaporean, PR, Foreigner
Similar Listings