Overview
Updated On:
July 29, 2020
Official Kent Ridge Hill Residences Latest Updates
July 16, 2020
:
Hillside Address City Living
🔹1 Bedroom (Fully Sold)
🔸1 + Study (Fully Sold)
🔹2Br Compact (Fully Sold)
🔸2Br Premium fr $1.353M
🔹2 + Study fr $1.363M
🔸3Br Compact fr $1.631M
🔹3Br Deluxe fr $1.694M
🔸3Br Premium fr $1.850M
🔹3+Study PH fr $2.452M
🔸4Br PH fr $2.637M
🔹5Br PH fr $2.871M
🔸4Br Strata fr $2.701M
🔹5Br Strata fr $2.907M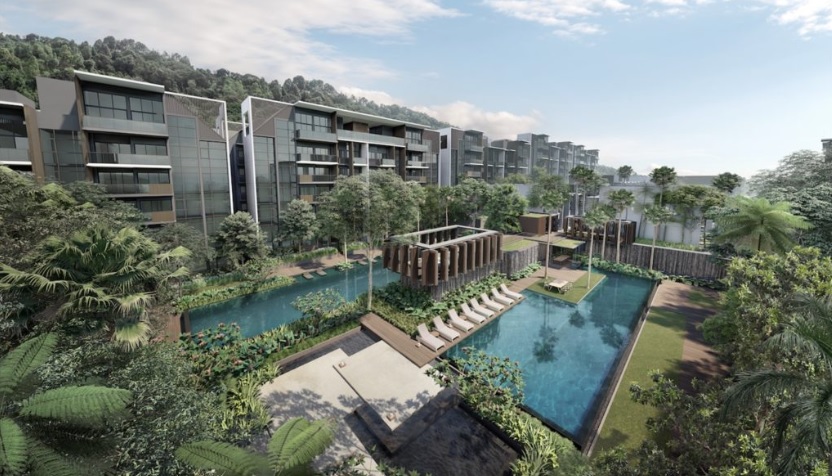 About Kent Ridge Hill Residences

Kent Ridge Hill Residences draws its inspiration from its hillside location and the lushness of Kent Ridge Park. Every thought that goes into the design and realisation, takes into account the surrounding nature. And every detail is imbued with the beauty of nature. Expect nothing less than a modern architectural masterpiece of sophisticated luxury nestled into the hill.
Developed by Renowned Oxley Developer. The site comes with a 99 years lease and measures 319,453 sq ft to be developed for 548 Residential and 50 Strata Houses. It is set to completes by 2024
While there are indulgences aplenty here at home, the call of 47 hectares of forest park can be too great to ignore. Enjoy the privilege of having a residents-only access to Kent Ridge Park, with absolutely no compromise on security
Why Invest/Buy Kent Ridge Hill Residences?

Well located between 2 MRT stations (Pasir Panjang MRT and Haw Par Villa MRT)

One of the rare development with direct access to a national park

Kent Ridge Park at door step

Low density, large land size

Kent Ridge Park view and Sea view

8 mins walk to Pasir Panjang MRT (Onemap.com)

Near to amenities eg, Potong Pasir hawker, One-North, Mapletree Business City, Science Park, NUS, NUH, international schools, etc.

Strategically located between 2 CBDs (MBFC & Spore 2nd CBD)

Next to Upcoming Greater Southern Waterfront City

High Rental Demands (Surrounded by Commercial Offices, Education Belt, Hospital)

Ideal Investment ( Great Potential Capital Appreciation with the Greater Southern Waterfront Master Plan)

Next To Green Belt (Westcoast Park, Kent Ridge Park, Hort Park)

BRANDED APPLIANCES AND QUALITY HOMES




* Branded appliances & Finishes : Bosch, Grohe, Electrolux, Yale digital lock, Quartz counter top




* Wall hung WC (Master & J.Master)




* Marble flooring for Strata Landed Houses




* Non PPVC construction – flexibility in layout

FERMAX SMART HOMES SYSTEM




* Yale Digital lockset




* Fermax smart home system (mobile access, smart air-conditioning control, Wi-Fi doorbell with camera, smart gateway with camera, voice control)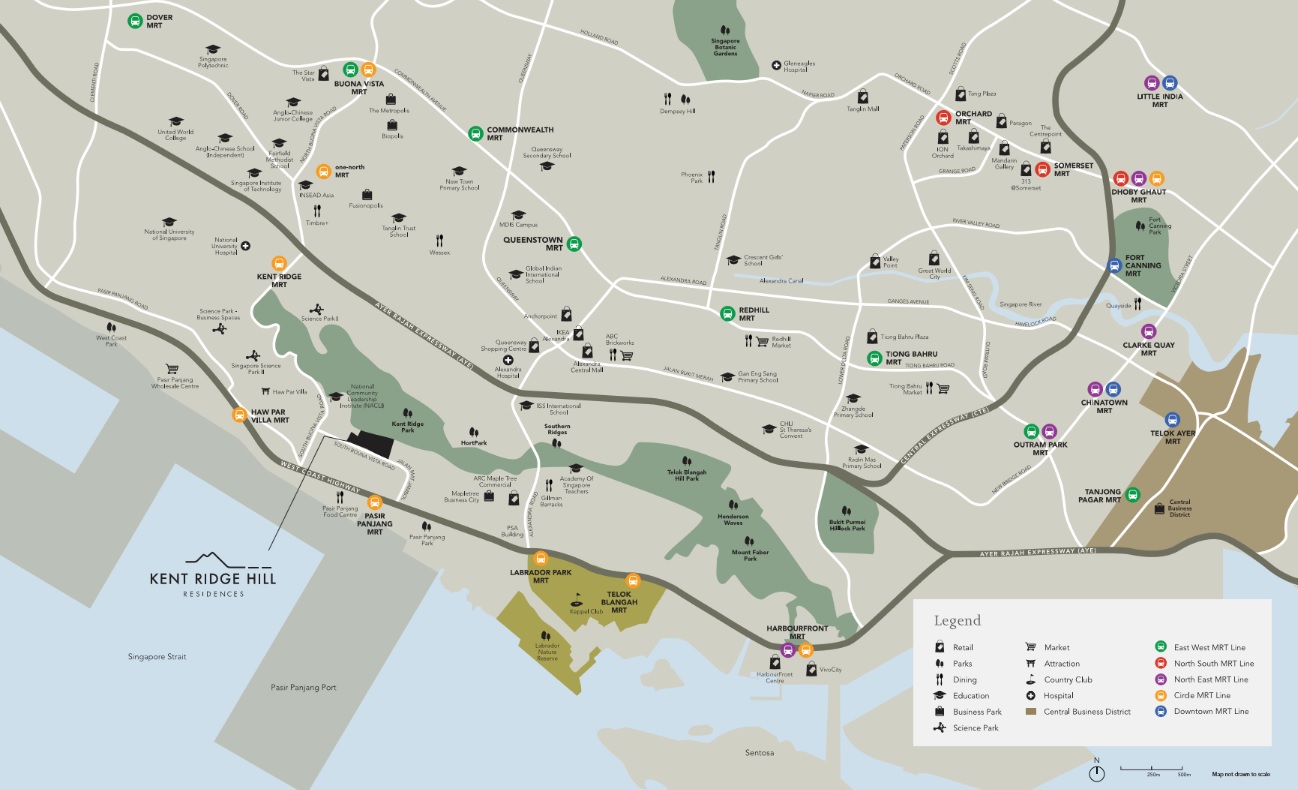 1. Location. Located in District 05, at Buona Vista off Pasir Panjang road. A low-density, low-rise private residential enclave: it comprises private homes like condominiums, apartments, cluster houses, and landed homes. Very similar in ambience to Upper Bukit Timah and the Siglap Katong districts. Due to its proximity to the CBD, this area has historically been ranked close to District 15, but on a smaller more intimate scale, as it is much less dense and crowded here.
2. Nearest MRT Station. The Kent Ridge Hill condo location is 600 metres, or 8 to 9 minutes walk from the Pasir Panjang Villa MRT station on the Circle Line. This takes you 3 stops down to Harbourfront station or VivoCity, and 3 stops up to One-North, or 5 stops to Holland Village.
3. Business Centres. This place is much nearer to major business centres than most people realise. It is a 15 minute drive from Raffles Place and the Marina Bay Financial District. But even closer to hand are many business hubs: Mapletree Business City (5 minutes drive), One North (9 minutes drive), and International Business Park. These last 3 alone represent over 50,000 jobs – that's a lot of potential tenants or buyers.
4. Shopping, Banks, Supermarkets, Dining. The Kent Ridge Hill condo location is not lacking in amenities. There are plenty of dining and shopping choices: Viva Vista down the road, Vivo City (10 minutes drive), Alexandra Retail Centre (6 minutes), Star Vista (9 minutes), Holland Village (10 minutes). Even Orchard Road is quite accessible, being a 15 minute drive away. Closer by are the shophouses, speciality cafes and restaurants scattered along South Buona Vista and Pasir Panjang Roads offering a delightful mix of old and new fare.
5. Educational Institutions. This area is home to one of the main education and research belts of Singapore, that include institutions like the National University of Singapore and its related research institutes, Science Park, Japanese schools, the ISS International School (Preston campus), United World College, and so on.
6. Nature Reserves & Parks. The Kent Ridge Hill location is in the vicinity of one of the longest string of parks in Singapore: the Southern Ridges Green belt, that extends from Kent Ridge Park, to HortPark, Telok Blangah Hill Park, and Mount Faber Park. Further south, we have the Labrador Nature Reserve and Coastal Walk.
7. Accessibility. Quick access to other parts of Singapore is provided via West Coast Highway, that joins the Ayer Rajah Expressway (AYE).
After 2027, URA plans to transform the land around Pasir Panjang and Tanjong Pagar into an ambitious waterfront city called the Greater Southern Waterfront City. It will cover 1000 hectares of land, 2.5 times the size of Marina Bay, and incorporate a continuous 30-km nature trail joining Labrador Park at one end to Gardens by the Bay at the other. The Greater Southern Waterfront City is slated to be ready around 2030 roughly 9 years after the completion of the Kent Ridge Hill Residences.






The Kent Ridge Hill Residences Amenities

Possibly the only place in Singapore where lush rolling hills and abundant nature, meet the sea and the city. While tranquillity resides in your hillside haven, you are mere minutes from the vibrant heart of the city. Adding to the charm are cosy lifestyle enclaves, quality education all around and that sense of space that comes with having a low residential population density, a rare quality in Singapore.
Kent Ridge Hill Residences – Greater Southern Waterfront

Imagine a prime waterfront site, three times the size of Marina Bay. That is the untold potential of Singapore's Master Plan for the Greater Southern Waterfront. With over 1,000ha of prime land, the Greater Southern Waterfront will stretch from Marina South and Tanjong Pagar, all the way to Pasir Panjang.
While still in its initial stages, six ideas have been proposed for the Greater Southern Waterfront. These ideas will take the way we live to a whole new level. They will also take into account Singapore's direction towards an environmentally-friendly society, and one that is future-ready. As exciting as these ideas are, they only serve to lay the groundwork for what will be Singapore's model waterfront precinct for the world.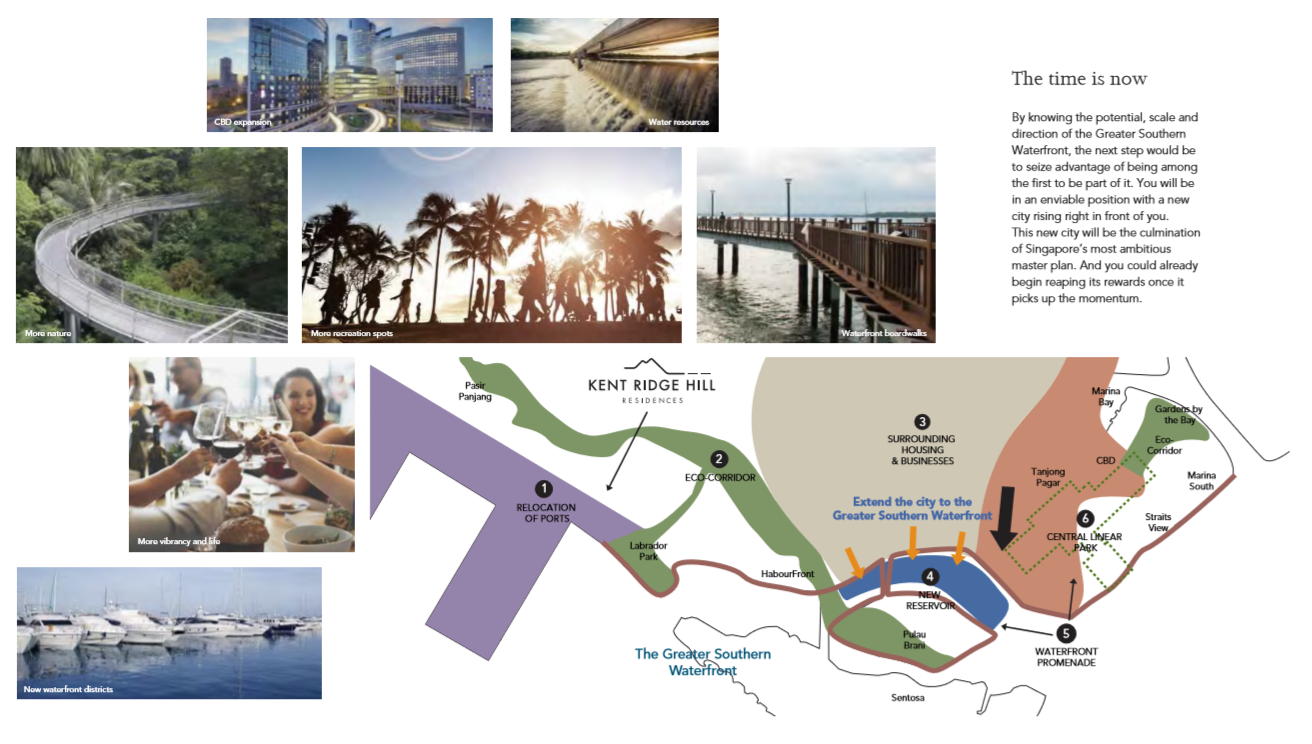 1.More new waterfront districts
Tanjong Pagar Terminal has already moved to Pasir Panjang. In a few years' time, all port activities will be centralised at Tuas. And the seafront districts of Tanjong Pagar and Pasir Panjang could be home to unique lifestyle concepts that will capitalise on their waterfront location.
 2. More nature and recreation spots
To strengthen Singapore's "city in a garden" status, more parks and gardens will be planned. New green eco-corridors could connect the major nature recreational areas to new and existing ones.
3.More room for the Central Business District (CBD)
The present CBD, Marina Bay and its surrounding areas could be expanded into the Greater Southern Waterfront. There could be further growth in bringing work places closer to home.
4. More ways to maximise water resources
As Singapore strives towards self-sustainability in water resources, a new reservoir could be planned for the Greater Southern Waterfront and could well be the next recreational hotspot. Thoughtfully planned canals could also work with the environment, while enhancing the new city with natural aesthetic
5. More opportunities to be closer to the water
The South-West has one of Singapore's most scenic views of the sea. To take advantage of this, a continuous 30km waterfront promenade could be built to link Labrador Park, Harbourfront, Marina South and Gardens by the Bay.
6. More vibrancy and life
Existing parks could be extended to encourage people to jog, stroll, cycle and simply enjoy more of the outdoors. More car-free pedestrian boulevards could be planned for a more colourful and vibrant street life.
The Kent Ridge Hill Residences Hillside Address City Living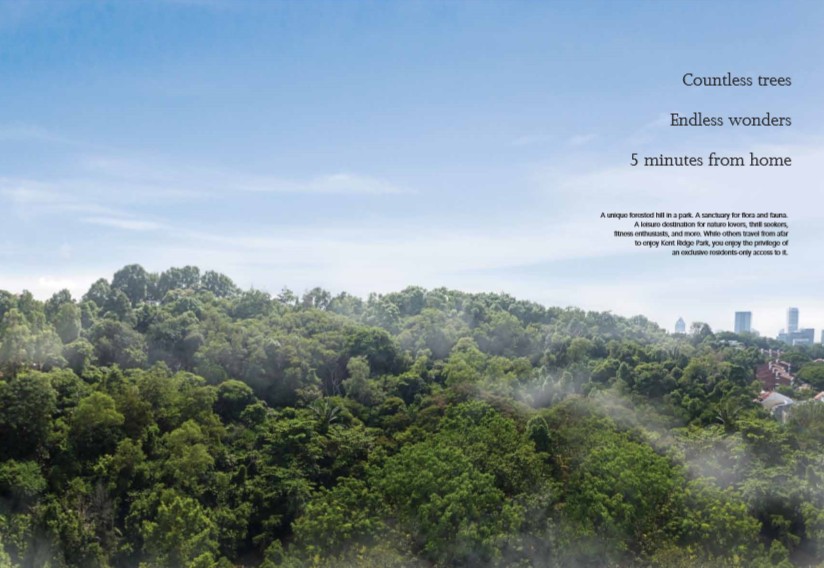 A hillside address is one that is much desired, yet remains exclusively exclusive.
A tranquil luxury haven surrounded by lush nature.
And in Singapore, a haven with a hillside address is extremely rare to find, let alone to own.
You have found your hillside haven here at Kent Ridge Hill Residences.
Kent Ridge Residences Site Plan / Facilities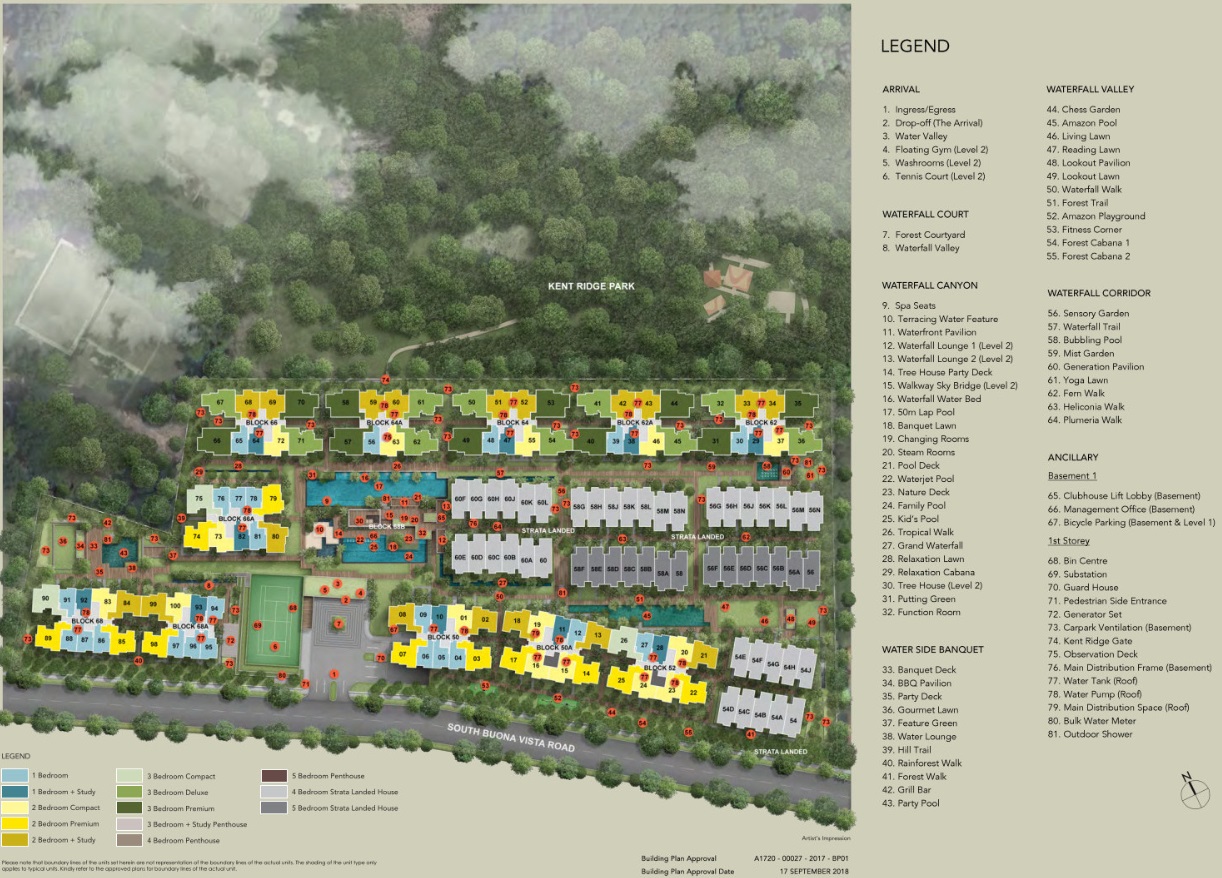 The Kent Ridge Hill Residences site is a wide parcel of land that fronts South Buona Road on its south, from which it is accessed. On its north, it is backed against Kent Ridge Park, part of the Southern Ridges green belt.
The units will mostly align with the roughly north-north-east / south-south-west orientation of the site. This generally north-south facing means they will be able to catch the prevailing breezes, in addition to enjoying the cooler and fresher air that comes from being right beside a large stretch of greenery.
The east of the Kent Ridge Hill condo site is flanked by a number of 2 to 3 storey high landed houses, while on the west is some open ground zoned for low rise community institutes. These allow both wind flows as well as an open feel to the whole place.
Oxley Holdings is a homegrown property developer and is principally engaged in the business of property development and property investment, with an overseas presence across eight geographical markets. The Group has a diversified portfolio with property development projects in Singapore, the UK, Cambodia, Malaysia, Ireland, Indonesia and China and investment projects in Singapore, Cambodia, Malaysia and Japan. The Group also provides project management and consultancy services in Myanmar.
​The Group's property development portfolio includes quality residential, commercial and industrial projects incorporated with retail elements and lifestyle features and facilities and are located in choice areas that are easily accessible. In 2013, the Group expanded its property development portfolio into other countries through partnerships with reputable developers and business partners. Oxley's balanced portfolio of investment properties comprises industrial, hospitality and commercial properties.
The Group also has investment in leading UK property developer, Galliard (Group) Limited that operates in four divisions – sales and marketing of homes, property construction, property developer, and homes letting services.
Property Id : 11886
Price:
From
$ 868,000
SGD
Property Type: Condominium
Developer: Oxley Holdings Limited
Tenure: 99 Years Leasehold
Site area: 29659sqm
Completion: 31 Dec 2024
Number of floors: 11 BLOCKS OF 5 STOREY, 50 STRATA LANDED HOUSE
Number of units: 548 (Inclusive of 50 Strata Landed Houses)
Unix Mixed: 1,2,3, Penthouse and Strata Landed
Parking Lots: 170 plus 3 Handicap
Buyer's eligibility: Singaporean, PR and Foreigner
Associate Marketing Director (R050368E)
lightslash2001@hotmail.com
Similar Listings
Everything you need to know about Dunearn 386 is right here. Includes specifications, floo
[more]
Everything you need to know about Dunearn 386 is right here. Includes specifications, floor plans, site map, unit d
[more]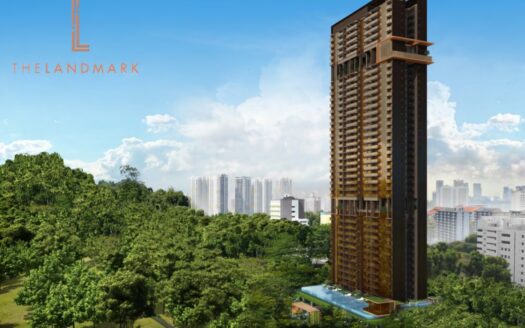 Everything you need to know about The Landmark is right here. Includes specifications, flo
[more]
Everything you need to know about The Landmark is right here. Includes specifications, floor plans, site map, unit
[more]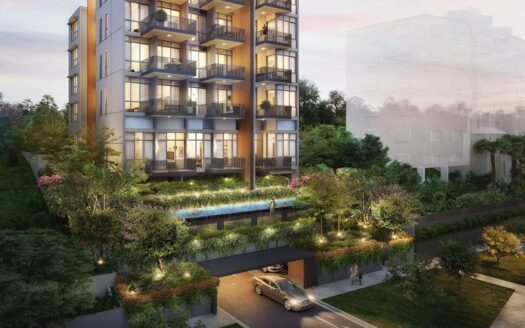 Everything you need to know about Sunstone Hill Condo is right here. Includes specificatio
[more]
Everything you need to know about Sunstone Hill Condo is right here. Includes specifications, floor plans, site map
[more]
Everything you need to know about Fourth Avenue Residences is right here. Includes specifi
[more]
Everything you need to know about Fourth Avenue Residences is right here. Includes specifications, floor plans, sit
[more]