Get all your New Launch Condo Question Answer Over here
Questions : Can Buyer still get OTP validity extensions after 28 Sept 2020 which Urban Redevelopment Authority (URA) restrict developer on reissuing an OTP.
Answer : Yes, URA's Controller of Housing is prepared to extend the validity of the OTP by up to 12 weeks from the expiry date (up from eight weeks previously), provided both sides agree to it. Home buyers or developers will have to provide their reasons for requiring more time to exercise their option (Usually is pending Sales Completion thus required a valid Sales OTP already exercised) . To do this, Buyer's Lawyer will charge about $200 to write in to COH (Write to Developer to delay with no charge). If approved, COH will indicate the specific date to exercise and law firm will update the Buyer.
Questions : What is the Cooling Measure that was released on 15/12/2021 that will affect buying Residential Property ?
Answer : Number 1 will be Higher Additional Buyers' Stamp Duty (ABSD) Rates which for first property purchase by Singapore Citizens and Permanent Residents will remain unchanged at 0% and 5% Respectively.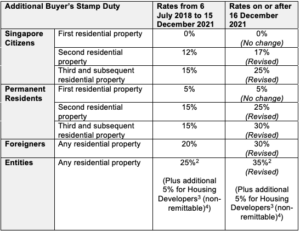 Questions : What is a Bridging Loan ?
Answer : A Bridging Loan is a short-term loan that you can take from the bank to increased your loan to maximum (80%) for purchased of Executive Condo and utilized your CPF in your OA Immediately for the balance 20% Down-payment.
Questions : Can i get a Bridging Loan such that i can buy a New Executive condo (EC) first and then only sell my current HDB when the EC Completed ?
Answer : Yes, but you will need to be Under Deferred Payment Scheme for your New EC Purchased and need to own a HDB Flat (With or without outstanding Mortgage Loan)
Questions : How does Bank Grant the Bridging Loan ?
Answer : They usually look into the Balance of 80% of your current HDB Value Less off any outstanding loan of that flat (Less of Resale Levy for some Bank) . This will be included in the letter of offer from the Bank.
Questions : Does Bank Offers Fixed Rate Loan Packages for New Launch ?
Answer : No, They only offers Floating Rate Loan Packages. Fixed Rate Loan Packages are Bank Loan that has commitment Period/Lock in which your interest rate will not be fluctuating for the numbers of year that is fixed.
Questions : Can you change from Floating Rate to Fixed Rate after securing the Floating Rate Package ?
Answer : Yes, but only when the development completed. And also the Floating rate package that you have secure would need to have a free conversion.
Questions : What is the Cooling Measure that was released on 15/12/2021 that will affect buying Residential Property ?
Answer : Number 2 will be tightened total debt servicing ratio (TDSR) threshold from 60% to 55%. New Mortgages cannot cause borrowers' total monthly loan repayments to exceed 55% of monthly Income.
Questions : I have bought a New Launch Unit and has signed S&P, Paid the 25% Downpayment  and the Stamp Duties. Can i swap unit with the developer ?
Answer : First, check with Developer if abort the existing unit and rebook another unit, can they not forfeit all the payments and allow all the money to transfer to the new unit. Second, check with the lawyer whether IRAS able to refund the stamp duty if abort the unit. If both is possible, then likely can do the swap.